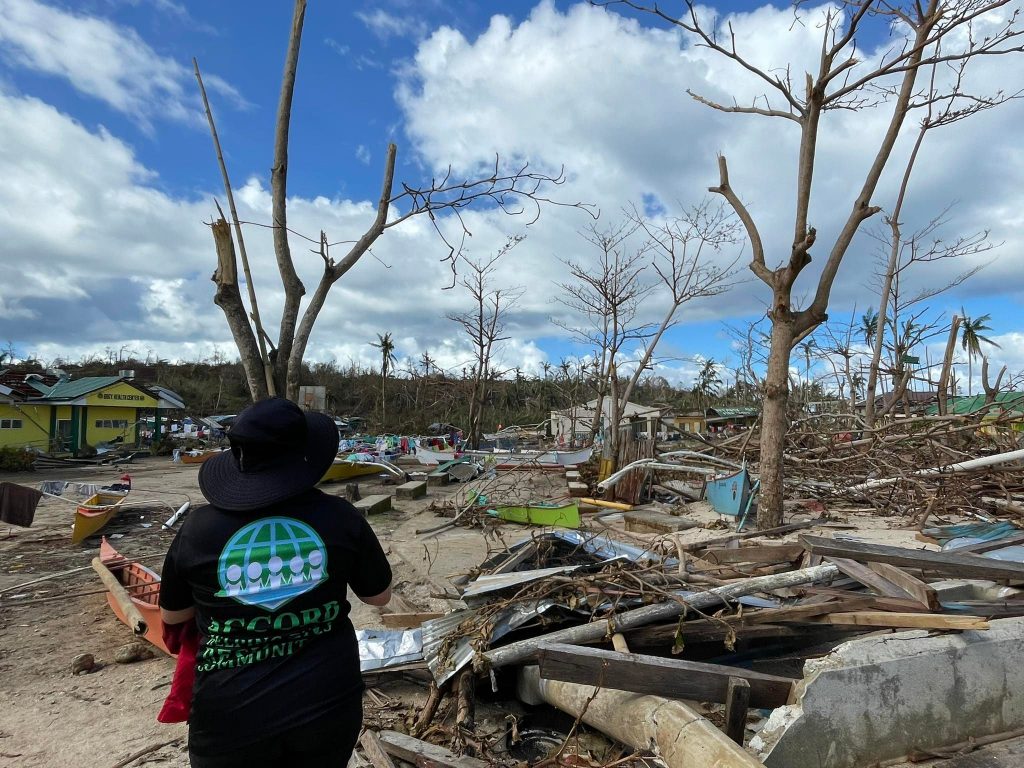 Manila, Philippines – The government of Canada, through the Canada Fund for Local Initiatives (CFLI), has donated CAD 50,000 as an initial response to the most-affected communities in the Caraga Region, Philippines battered by Super Typhoon Rai.
The funding will facilitate the delivery of much-needed humanitarian aid to the most affected and least-served populations in Surigao del Norte and Dinagat Islands. Through ACCORD, disaster-affected families will be provided with food packs, water, sanitation and hygiene (WASH) kits, emergency shelter, and other essential non-food items that will ensure protection, safety, and dignity even in times of disaster.
"We are grateful for the support of the Canadian government and recognize that the timeliness of their response is a significant contribution to communities that have already gone without access to basic needs such as food, water, and shelter for a few days," said Sindhy Obias, Executive Director of ACCORD, a local NGO currently conducting emergency response actions in the Caraga region and other parts of Mindanao.
Super typhoon Rai, with local name Odette, reached category 4 and packing sustained winds of up to 195 kilometers per hour (kph) – strong enough to flatten anything in its path as it made landfall more than seven times from 16 to 17 December.
As needs assessments are being conducted by the government and civil society organizations on the ground, gaps for life-saving aid become more apparent. Reports state that a total of 2.6 million people or more than 600,000 families were devastated by Super typhoon Rai in 10 regions, with Caraga as one of the severely affected regions. The life-saving aid from the Canadian government will help alleviate human suffering and ill effects of the disaster.
_____________________________________________
The Embassy of Canada in the Philippines' Canada Fund for Local Initiatives (CFLI) provides modest funding for small-scale, high-impact projects. It is designed to fund projects of local non-government organizations, civil society, and grassroots organizations aligned with Canada's various priority themes such as human rights, environment and climate change, inclusive governance, and on case-to-case basis, humanitarian response.
Assistance and Cooperation for Community Resilience and Development (ACCORD) is a national non-profit organization based in the Philippines that implements inclusive projects on Humanitarian Response and Integrated Risk Management (IRM). IRM is a comprehensive approach that integrates Disaster Risk Reduction, Climate Change Adaptation, and Ecosystem Management and Restoration.
Since its establishment in 2010, ACCORD has assisted communities affected by disasters such as typhoons (Washi, Bopha, Haiyan, Haima, Nock-ten, Goni, and Rai), Bohol and Mindanao earthquakes, and the COVID-19 pandemic. ACCORD also supports strengthening the resilience of communities that are high-risk to disasters and climate change impacts.
For media inquires, contact:
Bernadette Uy, Media and Communications Specialist
uy@accord.org.ph | +63906 208 7825