Community members affected by massive flooding brought by Typhoon Vamco in the province of Cagayan plant trees along the banks of Cagayan River as a mitigation strategy against future disasters and as a way of bringing back biodiversity in Cagayan.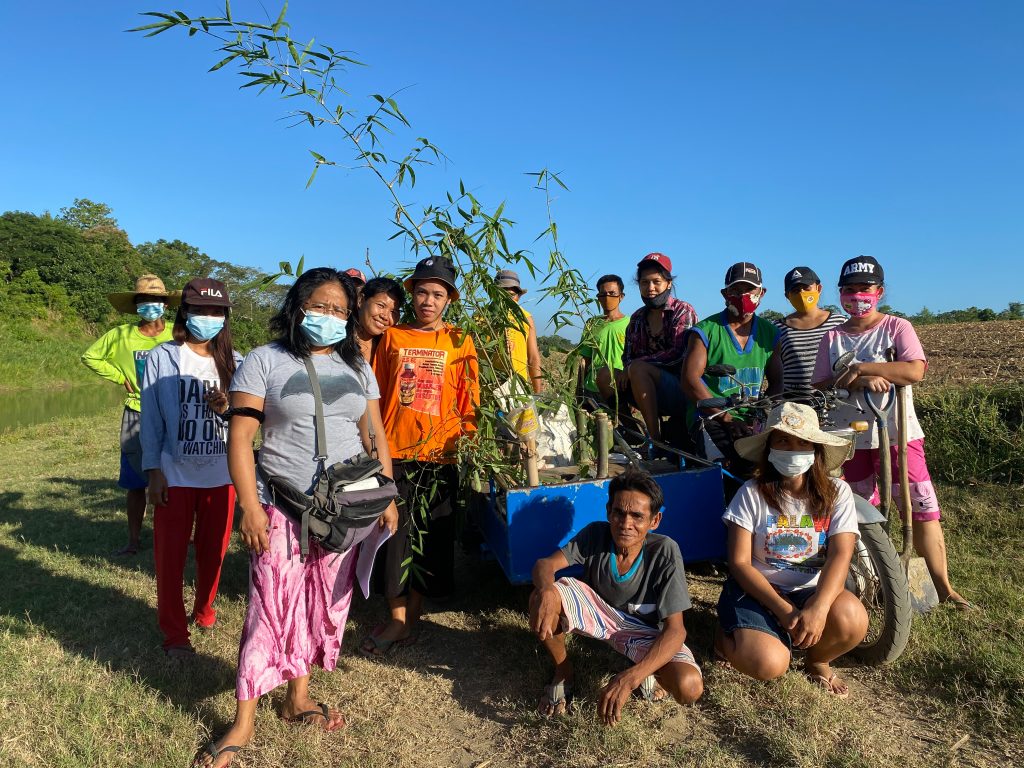 Volunteers from all sectors, including the youth and persons with disability work together to plant bamboos and other endemic trees on their riverbanks and other areas. Some resident also planted fruit-bearing trees near their houses to help with food security. Photo credit: ACCORD | Noel Baltazar
The municipality of Amulung has always experienced flooding during the typhoon season, but Vamco's aftermath submerged barangays in under 7-foot floods, destroyed crops and damaged the homes of thousands of families. 
Because of the Cagayan River's location, Amulung acts as a catch basin for the runoff water from upstream and midstream areas, and dwindling numbers of forest and native trees in these areas have worsened the flooding in the lowland municipalities, including Amulung.
"Sa biodiversity, dito sa 47 barangays po, most especially sa matataas na lugar, mayroon po tayong mga trees. Pero kung ikukumpara po natin noong unang panahon, marami-rami pero hindi na tulad ngayon," says Innocencio Gacias, Municipal Disaster Risk Reduction and Management Officer of Amulung. This drastic loss, he says, is one of the main reasons the flooding continued and even worsened as years progressed. 
Cagayan's catch basins
Similar to Amulung, the barangay of Takiki in Gattaran, Cagayan is used to perennial flooding; however, they have never experienced a flood as serious as the one that attended Typhoon Vamco's onslaught.
"Marami ring malalaking puno dati, pero matapos magkaroon ng illegal logging ay lalong nabawasan," describes Eduardo Tolentino Jr., Takiki's barangay captain. He also believes that aside from the continuous illegal logging activities, kaingin, or clearing of forest areas through burning to utilize the land for agriculture and housing, is causing the soil to erode and rainfall to runoff in bigger volumes.
In addition, Cagayan River's riparian zones exhibit embankment erosion, which means the loosening of riverbanks' soil when the river swells. This continued erosion is also caused by the lack of trees anchoring the soil down, thus making the risks of flooding higher in these areas.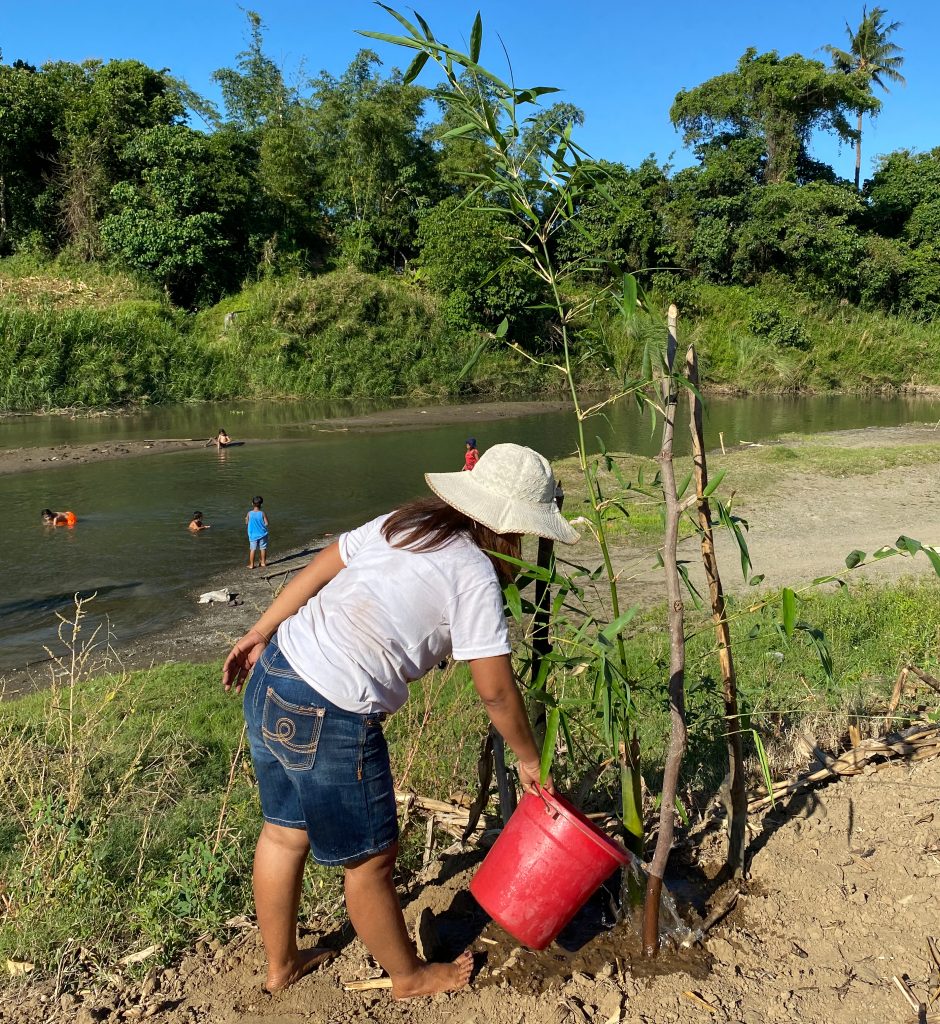 A resident waters a newly sown bamboo planted by the banks of the Dummun river that passes through the municipality of Gattaran, Cagayan Province. Planting bamboo will help minimize flooding and its effects to their communities. Photo credit: ACCORD | Noel Baltazar
This is why, as part of delivering emergency aid to Typhoon Vamco-affected communities, CARE and ACCORD Inc., with support from European Civil Protection and Humanitarian Aid Operations (ECHO), closely collaborated with local government units and communities to identify how these issues could be mitigated through strategies that will help restore ecological biodiversity.
A 'greener' solution
Partner communities benefiting from Multi-Purpose Cash Transfer (MPCT) also participated in tree-planting, as a counterpart for the support that they received. The LGU initiated these activities, which also helped raise community awareness on the importance of protecting riparian zones to reduce disaster risks.
Reforestation is the process of replanting in areas that were destroyed, and could also help lessen erosion and prevent disastrous flooding.
"Humanitarian activities and projects can become avenues to mainstream risk reduction activities. The goal is to not only provide the most affected and vulnerable population with lifesaving aid, but also leave them in a sustainable, more resilient situation where their risks from future disasters are lessened and their ecosystem is restored," says Sindhy Obias, ACCORD's executive director.
Replanting trees also restores the biodiversity in these municipalities by planting native and forest trees, which have been cut down, and creating municipal nurseries where native, forest, and fruit bearing trees' seeds will be nursed until they mature enough to be seedlings is also a part of this activity's strategy.
"Kaya nagpapasalamat po kami sa ACCORD dahil pinagbigyan po ang aming request na magkaroon ng municipal nursery po. So, yung municipal nursery po na parang collab po natin ay gagawin natin siyang parang seedbank kung saan magtatanim po tayo ng iba't ibang klaseng trees, doon sa ipapatayo po natin nursery and ang mangyayari pag successful po tayo roon is yun po yung papamigay natin sa lahat ng sector ng core organizations na nasa iba't ibang barangay para tutulong po sa ating tree planting activity dito sa bayan ng Amulung," says Gacias. He also hopes to establish another seedling nursery at the western part of Amulung.
Establishing municipal nursery and seed banking was supported by Arbeiter Samariter Bund  and Bundesministerium Für Wirtschaftliche Zusammenarbeit (German Federal Ministry for Economic Development Cooperation) (BMZ) through a CCA-DRR Project in Cagayan. ASB and BMZ support the Improved Adaptation of At-risk Communities in Indonesia and the Philippines through Inclusive Community-based Actions and Learning Project, which aims to develop disaster resiliency in communities through activities such as community risk assessments, training, planning, and livelihood assistance. 
Making impact in the communities
The tree planting activity's goals are to establish responsibility in the beneficiaries by mobilizing them and instilling the responsibility to take care of their environment for their and the future generation's benefit.
"Kaming mga napiling beneficiary ay nabigyan ng assignment na mag-garden, magtanim ng mga kawayan o anumang mga puno na panangga sa baha. Sabi ng aming kapitan ay makilahok kami at dahil nagustuhan namin ang mga ganitong proyekto ay buong puso kaming nakisangkot," says Cristobal Alata, 69, one of the residents in Barangay Takiki, Gattaran who received aid through the MPCT .
He also now understands how these trees will eventually lessen the risk of floods in their area, and wants to be given more guidance on how to improve these activities.
The activity has also fostered bayanihan or the value of cooperation and volunteerism among community members aside from its environmental and DRR benefits.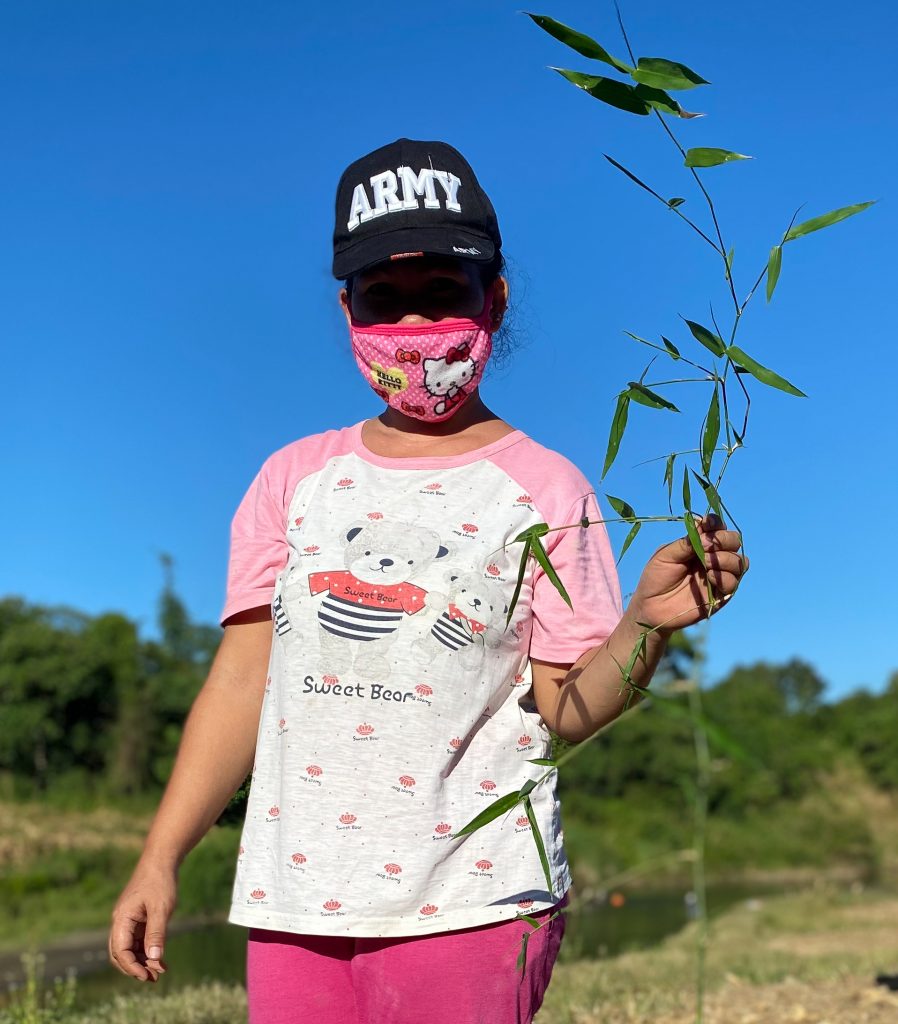 Photo credit: ACCORD | Noel Baltazar
"Masaya kasi nakakatulong kami sa kalikasan saka sa mga kabarangay namin. Nakakatulong kami dahil kapag tumubo yung bamboo, siya yung sumisipsip sa baha, tapos siya yung humahawak sa lupa para hindi magkaroon ng landslide," says Reymelyn Bengua from barangay Taikiki, Gattaran.
The beneficiaries were grateful not only for the lifesaving aid they received, but also for the lessons they gained through participating, as well as the cooperation exhibited by their community during the tree planting.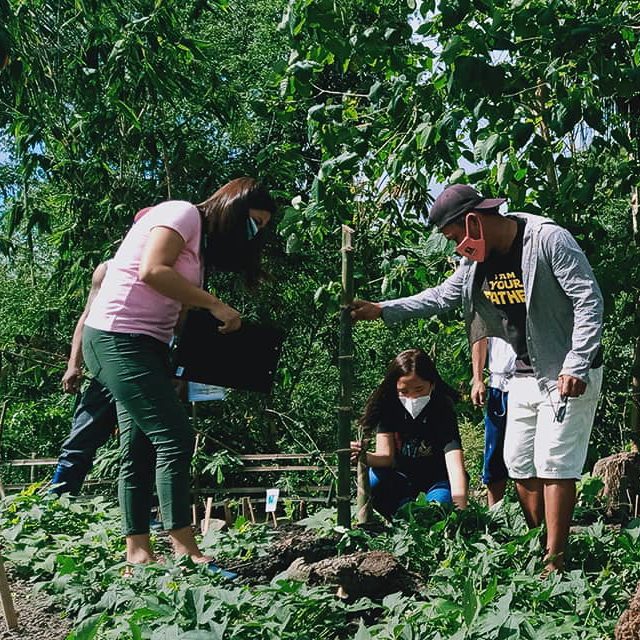 Residents of Barangay Taikiki, Gattaran in Cagayan work together to plant acacia trees and bamboo seedlings, with the Sangguniang Kabataan spearheading the activity. Photo Credit: Barangay Taikiki Facebook page
________________________________
The "Humanitarian Assistance to Typhoon Vamco Affected Communities in Region II" is a consortium project of CARE Philippines, ACCORD, Plan International and Action Against Hunger implemented in various municipalities in the provinces of Cagayan and Isabela.
Funded by the European Union. Views and opinions expressed are however those of the author(s) only and do not necessarily reflect those of the European Union or the European Civil Protection and Humanitarian Aid Operation. Neither the European Union nor the granting authority can be held responsible for them.